Mountain Shadows Middle School

Developmental Humanities Core

6th Grade

Our class is comprised of RSP, Title I, and general education students recommended for extra support in the areas of reading and written language.

In February we completed our unit on Mesopotamia and Ancient Egypt. The class completed an Inquiry Unit on Ancient Egypt. The projects are written based on Bloom's Taxonomy and Multiple Intelligences. Students enjoyed building pyramids and making mummies. They also created games such as those played during ancient times.

At the end of the school year, 6th grade students completed a culminating project on Ancient Greece. Students worked in cooperative learning groups to create a Greek Magazine.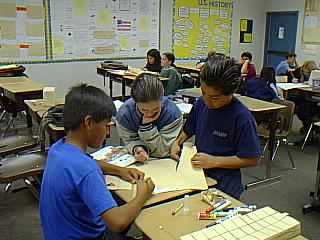 6th Grade students working on Egypt Inquiry Projects.

Students working on the classroom computers.
The program they are using is from Computer Curriculum Corporation. It is the SuccessMaker program and covers reading, mathematics, spelling, and vocabulary.

Back to Home Page