Mountain Shadows Middle School
Resource Specialist Program
and
Developmental Humanities Core
Grades 6-8
Link to CARS Conference Presentation in San Diego, February 27, 1998
Program Philosophy:
The special education program at Mountain Shadows Middle school offers a variety of adapted programs to meet the needs of students who have been identified as requiring special education services. In order to provide a continuum of services to students, there is cooperation between both the Resource Specialist and the Special Day Class programs; students served primarily in one program may receive additional services in another program. This coordination is done in compliance with and in response to student's specific I.E.P. goals and objectives. The special education programs at Mountain Shadows are designed to provide individualized assistance to students with identified disabilities in the least restrictive environment with maximum exposure to the core curriculum and access to all materials and equipment available at the school site.
During the 1996-97 school year a pilot program was implemented that provided RSP, Title I, and general education students with intensive support in reading, writing, spelling, and history-social studies. The service delivery model for this program is a humanities core for language arts and history-social studies for targeted special needs students in grades 7 and 8. During the 1997-98 school year, this program was expanded to include grade 6. Due to the unique nature of this program we have entitled it the Developmental Humanities Core.
The resource program is based on both the collaborative-consultation model and a Developmental Humanities Core for intensive support in reading, writing, spelling, and history-social studies. The resource specialist works collaboratively with general education teachers to plan instruction and adapt core curriculum in order to meet the goals and objectives detailed in a student's Individualized Education Program. The resource specialist also plans collaboratively with humanities teachers in coordinating the curriculum that is delivered to students in the Developmental Humanities Core. By implementing these service delivery strategies, we work toward the following goals:

Provide instruction in the least restrictive environment.
Meet the needs of a greater number of students by providing intensive services in the area of reading, writing, spelling, and social studies to RSP, at risk, Title I, and non-identified general education students.
Allow students access to the core curriculum by planning skillfully adapted lessons and support materials.
Comply with state and federal law and SELPA policies and procedures.
RSP Reading Program: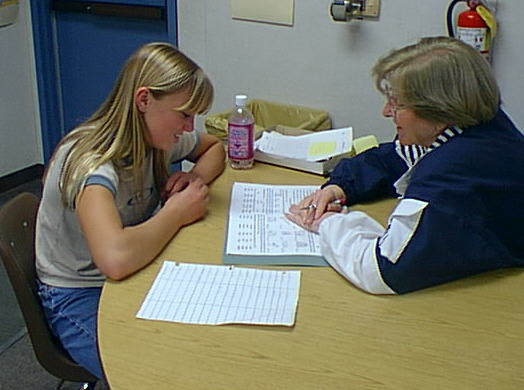 Individual students are pulled out daily for 10-15 minutes during the Developmental Humanities Core classes.

To develop phonemic awareness and skill development, flash cards with sight words are used as well as flash cards with sound patterns. Students are to say the words and move quickly through all of the flash cards. The words are taken from graded word lists found in the Brigance Comprehensive Inventory of Basic Skills.

Students then work in their individual "Hayes Rapid Reading Improvement" packets, all beginning with consonants and consonant sounds and moving through vowel patterns and all phonics skills. The follow up activities are designed to reinforce the rules for reading and phonics. Students complete these activities on their own, with the instructor pointing out incorrect responses until 100% mastery has been reached. Only then does the student move on to the next skill.

During the Developmental Humanities Core, students work individually and at their own pace using several of the SuccessMaker® comprehensive courses from Computer Curriculum Corporation. SuccessMaker was produced by Computer Curriculum Corporation ("CCC"), the leading provider of educational software and services to K-12 schools.

One of the reading courses, Reader's Workshop (Grades 3-7), develops basic reading comprehension with an emphasis on higher-order thinking skills. Reader's Workshop provides practice in specific reading skills along with integrated practice in two course strands: Passage Comprehension and Thematic Lessons. In these two strands, students apply many reading skills to over 500 reading passages. The thematic lessons use a directed reading-thinking approach to teach students to analyze text, interpret informational graphics, and integrate vocabulary and comprehension skills. The course presents reading passages on a wide range of topics in several writing styles, as well as graphic materials such as online tables and graphs.

Another SuccessMaker program we use is Spelling Skills (Grades 2-8). Spelling Skills introduces rules and patterns as students study the words they don't know. Words are arranged in over 60 groups such as homophones, words ending in double consonants, and adjectives with suffixes. This enables students to make generalizations about rules and develop generally applicable strategies for learning new words. The course is individualized to each student, so students spend time studying only the words they don't already know. Individualized tutorial hints support the student as he or she works through the activities. Teachers can use enrollment options to create focused activities such as review quizzes, fixed-unit drill, or games only.

The course that we utilize for students qualifying in the area of math is Math Concepts and Skills (Grades K-8). Math Concepts and Skills is a comprehensive course that develops and maintains the key strategies, concepts, and skills of K-8 mathematics. It is a substantial course that covers over 1,500 content objectives through a highly diverse collection of interactive exercises. The course provides guided instruction plus layers of automatic support to detect student needs and respond with appropriate information.


Adapted and reprinted with permission from the Courseware Descriptions brochure about SuccessMaker® software. Copyright © 1997 Computer Curriculum Corporation. All rights reserved.
If you have any questions or comments, please email to:
Mary Reid
Resource Specialist
Back to Home Page